2nd hand Windsurf, Kitesurf and Surf Classifieds
Welcome to the all new Forces-of-Nature classifieds section where you can buy and sell kit free of charge.
Browse through the various windsurfing, kitesurfing, surfing, bodyboarding, miscellaneous and wanted sections to find a wide range of boards, sails, kites, wetsuits and accessories. If you have something to sell then please feel free to submit an ad.
« Back to the Kitesurf Accessories category
Gath RV Retractable Visor Wind/Kite Surf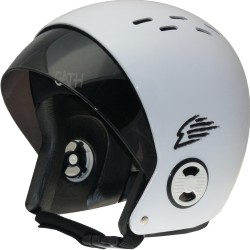 Brand new Gath RV Retractable Visor Kite / Wind Surfing Helmet in White. Size L 575mm - 590mm.
Get bidding if you need a new helmet and want to save on the normal list price.
http://cgi.ebay.co.uk/ws/eBayISAPI.dll?ViewItem&item=220473826463&ssPageName=STRK:MESELX:IT

Price: £
Contact Details
Web Design in Wales, UK by
Pixelwave Design.